Night Light Repair Serum
€75,00
30 ml
275 € /100 ml
Night Repair Light Serum restorative & regeneration overnight serum for all skin types
YOUR BENEFITS:
Reducing wrinkles, connective tissue strengthened, increases hydration & moisture, elasticity & firmness, accelerated lifting effects
... people are viewing this right now
---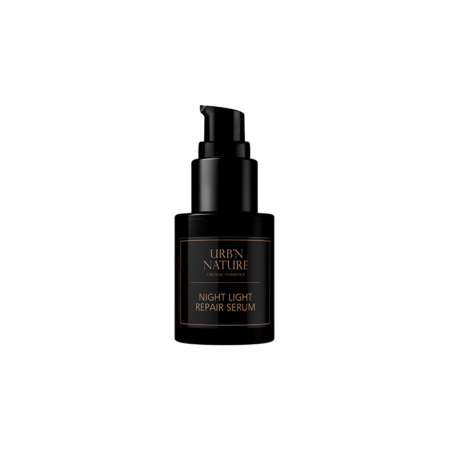 Night Light Repair Serum
€

75,00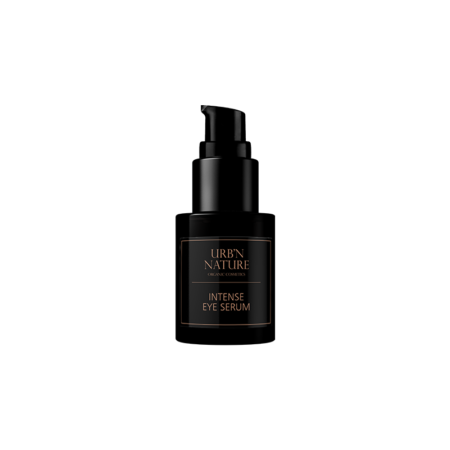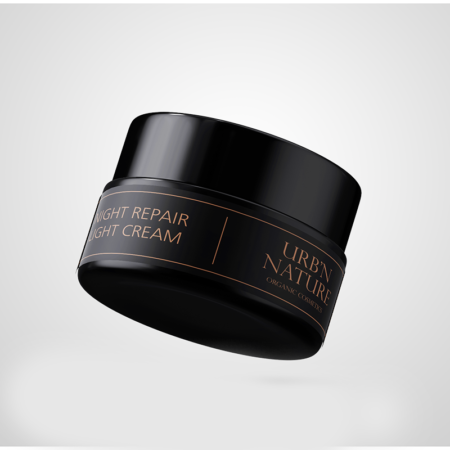 KEY ACTIONS :
restorative & regeneration overnight serum for all skin types
KEY INGREDIENTS:
aloe vera, active nonapeptide-4, ectoin extract, Horsetail extract, Pomegranate Seed extract, White tea Leaf extract, frankincense resin extract.
YOUR BENEFITS:
Nonapeptide-4 is reducing wrinkles by 50% reduction of facial wrinkle depth by 50% within six weeks, microcirculation enhancement, connective tissue strengthened, minimize the appearance of wrinkle depth. Increases hydration and moisture levels up to 200%, reduce skin, Increase elasticity and firmness levels up to 80% in as little as four weeks, accelerated lifting effects, increase the skin's ability to protect itself against pollutant penetration.
NIGHT REPAIR LIGHT SERUM APPLICATION
Your skin is your superhero shield! Blend URB'N NATURE NIGHT REPAIR LIGHT SERUM with your NIGHT REPAIR LIGHT CREAM to increase the restorative effect. Gently pat the blend onto your face, neck, and décolletage. Pad evenly, never rub into skin.
In the summer months or a humid climate, use after CLEANSING.
In the winter months or a dry climate, use after CLEANSING and blend with our HYDRO PROTECT SERUM.
Night Light Repair Serum
€75,00
30 ml
275 € /100 ml
Regenerierendes Serum für die Nacht. Anti-Aging. Empfehlenswert für alle Hauttypen
Deine Vorteile:
Reduzierung von Falten, Stärkung des Bindegewebes, Erhöhung der Feuchtigkeit, Elastizität und Straffheit der Haut. Nährend und beschleunigte Lifting-Effekte.
... people are viewing this right now
---
WIRKUNG :
Regenerierendes Serum für die Nacht. Empfehlenswert für alle Hauttypen. Vegane Hautpflege.
HAUPTINHALTSSTOFFE:
Aloe Vera , aktives Nonapeptid-4, Ectoin-Extrakt, Schachtelhalm-Extrakt, Granatapfelkern-Extrakt, Weißer Tee Blattextrakt, Weihrauchharzextrakt.
DEINE VORTEILE:
Nonapeptid-4 reduziert Falten innerhalb von sechs Wochen um 50%, verbessert die Mikrozirkulation, stärkt das Bindegewebe und minimiert das Auftreten von Falten. Erhöht den Feuchtigkeitsgehalt um bis zu 200%. Erhöht die Elastizität und Festigkeit in nur vier Wochen um bis zu 80%. Beschleunigt die Lifting-Effekte und erhöht die Fähigkeit der Haut, sich vor dem Eindringen von Schadstoffen zu schützen.
NIGHT LIGHT REPAIR SERUM ANWENDUNG:
Deine Haut ist dein Schutzschild! Mischen Sie URB'N NATURE NIGHT REPAIR LIGHT SERUM mit Ihrer NIGHT REPAIR LIGHT CREAM, um den Wiederherstellungseffekt zu erhöhen. Tragen und Klopfen Sie die Mischung vorsichtig auf Gesicht, Hals und Dekolleté. Gleichmäßig verteilen, niemals in die Haut einreiben.
In den Sommermonaten oder bei feuchtem Klima nach der REINIGUNG verwenden.
In den Wintermonaten oder bei trockenem Klima, nach der REINIGUNG verwenden und mit unserem HYDRO PROTECT SERUM mischen.
QUALITÄT UNSERER NATURKOSMETIK:
• 100% Organische Inhaltsstoffe
• Keine synthetischen Inhaltsstoffe
• Keine synthetischen Konservierungsstoffe
• GMO frei
• Kein Palmöl
• Keine Parabene
• Kein Mikroplastik
• Keine Tierversuche
• Nachhaltig produziert
• Made in Germany
• Professionelle Spa Produkte für zu Hause