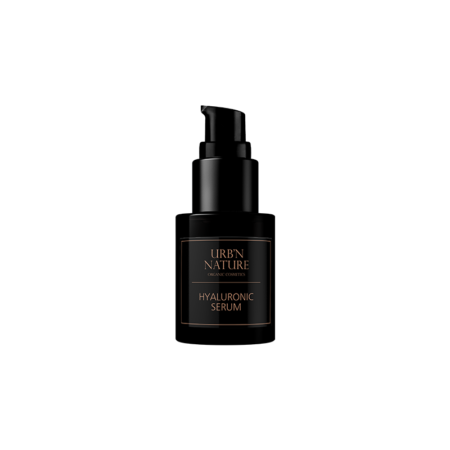 KEY ACTIONS:
Deep hydrating, tri-hyaluronic serum for all skin types. Anti-Aging, Anti-Wrinkle. Vegan
INGREDIENTS:
Aloe Barbadensis (Aloe Vera) Leaf Juice*, Sodium Levulinate, Sodium Anisate, Ectoin, Ethyl Ferulate, Ascorbyl Glucoside, Tri Hyaluronic Acid, Buddleja Officinalis Flower Extract*, Glyceryl Caprylate, Sclerotium Gum, Sodium Phytate, Mangostin, Stearyl Glycyrrhetinate, Tocopherol, Helianthus Annuus (Sunflower) Seed Oil*, Rutin, Glycerine*, Citric Acid ORGANIC*
YOUR BENEFITS:
Suppresses dark pigmentation, discolouration and inflammation reduction prevents interaction of free oxygen radicals and repairs damage from ultraviolet ray
The Hyaluronic Serum formulation is based on three different molecular weights. The low molecular weight of the medium and lower molecular weight hyaluronic acids are a new state of the art molecule. These have a carrier effect that makes it possible to overcome the skin barrier. Thus, these molecules act as a moisture reservoir for the skin and reducing the appearance of wrinkle depth and increase hydration and moisture levels.
High molecular weight HA reduces water loss and cushions small wrinkles.
HYALURONIC SERUM APPLICATION:
Apply HYALURONIC SERUM twice daily in the morning and evening. Use the ring finger to gently apply HYALURONIC SERUM onto the skin around the eye area and massage gently.
For maximum results, mix HYALURONIC SERUM with a MOISTURIZER.
In the summer months or a humid climate, use after a CLEANSING ritual and before applying a MOISTURIZER of your choice
In the winter months or a dry climate, use after a CLEANSING ritual and before applying INTENSE FOCUS or HYDRO PROTECT CREAM
QUALITY OF OUR NATURAL COSMETICS:
• 100% organic ingredients
• Aloe Vera instead of water
• No synthetic ingredients
• No synthetic preservatives
• GMO free
• No palm oil
• No parabens
• No microplastics
• No animal testing
• Sustainable produced
• Made in Germany